i'm participating in the
blog carnival
for freedom to marry week.
The way it works is simple. Each day next week, post to your blog or facebook page something on these topics, according to the "olde" wedding tradition:

Tuesday, Feb. 10... Something Old
Wednesday, Feb. 11... Something New
Thursday, Feb. 12... Something Borrowed
Friday, Feb. 13... Something Blue
Saturday, Feb. 14... Valentine's Day: Celebrate Love
in july 2002, we had a commitment ceremony on the beach in key west at sunset. of course it wasn't a real legal "wedding", but to us it was. so, in honor of
freedom to marry week.
and in the hopes that one day we can make it as legal as it feels to us in our hearts, here is my two part "something old" contribution.
a pic of the place we stayed on our honeymoon (an all girl hotel in key west):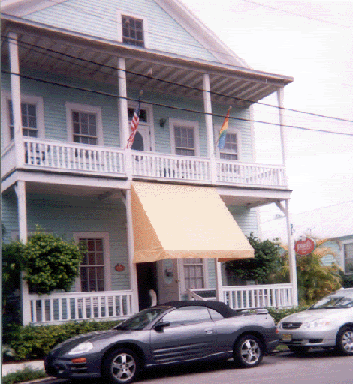 and an except from a post i wrote about it awhile back (on my old blog)
let me set the scene for you. i'm in a hotel room in key west that opens out to the pool. its an all female hotel. really. men aren't allowed on the property at all. my mom and i are in the room, just having put the final touches on my wedding hair do and pedicure. we walk out and all the lesbians in the pool see me in a wedding dress (gorgeous off the shoulder cream colored dress with tafetta flowers along the shoulders and neckline and a full skirt, thank you ) and they all say "AWWW" in unison. my mom is so excited that she exclaims "we're getting married! well not me and her, i'm her mom" of course everyone cracks up and off we go to the beach for the sunset ceremony. *cue the music* bryan adams and barbara streisand are singing "i finally found someone" as she and i walk through the sand to each other, me escorted by my mother, she escorted by a close guy friend of ours (who took his job VERY seriously, it was so precious). as the sun set, we promised to love each other forever and exchanged rings. afterwards, we shared cake with our closest friends and my mother and step-dad and posed for tons of pics. we spent the remainder of the wekeend in key west and were back at work on monday. its been wedded bliss ever since.